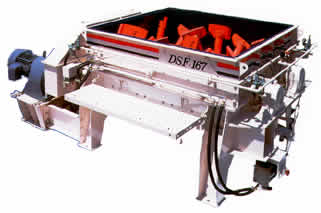 In addition to the conventional "INTEGRA" series, old technical common sense is not made into common sense, but it returns to the starting point, and the "DASH" series which carried out technical concentration promises a company competitive power in respect of all costs, and changes the "form" of raw concrete business.The maximum effect (instantaneous power) is attained by the minimum investment. The "DASH" series of NIKKO was born by such how to consider.

An instantaneous power mixer "DSF" serves as a conclusive factor of the instantaneous power. "DSF (double spiral flow)" shortened kneading time to conventional two thirds.The highest efficiency and system balance of each system are pursued, and not only the steep rise of the quantity of production but production of high-quality raw concrete is correspondence perfectness.

Furthermore, the Batcher plant only for concrete product factories "Batch Pack" was newly developed.The function required for the problem solution with which the concrete product maker is faced now of "manufacture of quantity intensity and high flow concrete" was packed simply.High evaluation is obtained to NIKKO which always repeats the new proposal from a customer's viewpoint, and its technical development.

NIKKO inherits the clear genealogy of new imaginative power and advanced technology, cultivates the new world of a Batcher plant, and continues constant efforts that it should answer to all user needs as the biggest manufacturer also from now on.