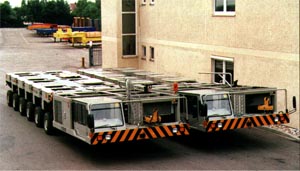 For the economical transport of oversized and heavy goods, Goldhofer manufactures a combination system with hydraulic axle suspension and hydraulic steering.

This modular system provides almost unlimited possibilities to solve simple as well as complicated transport tasks. The individual platform modules can be combined in longitudinal and lateral direction. Additionally, you can choose goose-necks and transport bridges in different combinations.

For the transport of ultra-heavy loads Goldhofer has developed modules with hydrostatic drive. They can be combined with platform modules and are equipped optionally with an electronic multi-way steering which enables normal, transversal and carousel steering. This provides optimum manoeuvring capabilities and increases the scope of use for loads way over 10,000 tons.